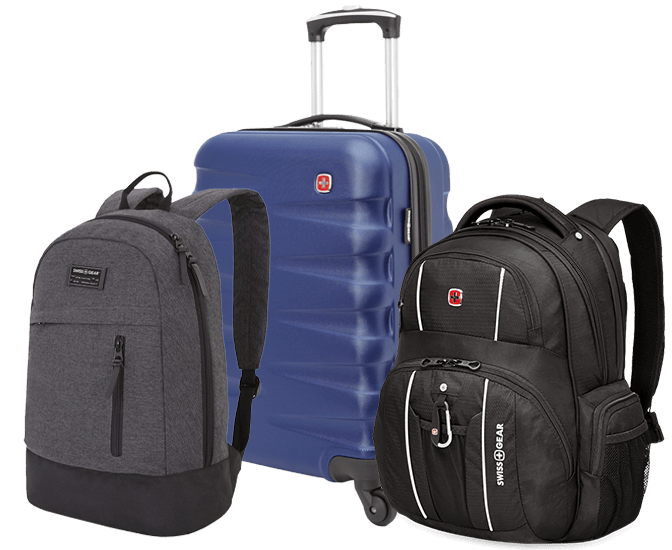 Holiday

2018 Gift Guide
With the Holidays fast approaching, SWISSGEAR makes gift-giving festive & easy with this curated selection of travel bags and accessories for travellers and urban adventurers who care about great style and smart functionality. Whether you're buying for the post-graduate student or young professional in your life, whether you're looking for stylish, yet affordable gifts for friends and colleagues, this exciting, splurge-worthy Gift Guide offers up a range of great gift ideas to match their personality and fit your budget. From backpacks to business cases, from watches to wallets, this SWISSGEAR Holiday Gift Guide is your one-stop Christmas Gift Shop for style-conscious globetrotters and urban dwellers who appreciate good-looking, premium-quality gear.
Gifts For Him
Choose the perfect gift – or two! – from this selection of stylishly understated travel bags for aspiring professionals who value modern, tech-friendly functionality and versatile, clean-cut styling for any occasion or destination. Whether he's travelling for business or visiting family for the Holidays, these travel bags are sure to make a great impression with matching tones and finishes that tastefully complement his look. Ah, the joy of giving well!
Getaway Daypack Backpack (22306)
This is an elegant, fashion-forward backpack that's ideal for work, yet equally convenient for travel or everyday excursions. Featuring a 13-inch padded laptop sleeve and multiple interior and exterior pockets to stash your electronics, personal accessories, and other essentials, this casual backpack delivers sophisticated style & function for the multitasking commuter.
Shop Now
Professional Wheeled Computer Business Case (0970)
Help him keep the pace with this quality-crafted professional wheeled business case featuring stylish good looks and handy amenities. It includes a padded computer sleeve that fits a 15-inch laptop, and a front-access multi-function organizer with cell phone pocket. It's the perfect add-on to his Getaway backpack or carry-on when travelling for business.
Shop Now
Getaway 19" Rolling Duffel Bag (22390)
He can really go the distance with this 19-inch wheeled duffel bag engineered for functionality and performance. It features a roomy main compartment with enough space to pack several days' worth of clothing, and interior zippered pockets for sundries and toiletries. Paired with the matching Getaway laptop backpack, it makes the perfect combo for the Holidays and all his weekend escapades.
Shop Now
Gifts For Her
When she travels, she likes it smooth and easy-going. This Holiday season, treat her to practical, versatile, tastefully-designed travel gear with subtle feminine touches that will pair beautifully with her casual, laid-back style. Expertly-crafted with premium-quality materials, this handsome selection features modern amenities and stylish designs that nicely complement her adventurous urban lifestyle. As she prepares to leave on a well-deserved school-break vacation or a Holiday spa-getaway with her girlfriends, offer her a lasting gift that she will cherish for many adventures to come.
Zip-Around RFID Wallet (66702)
It's the ideal companion for all her shopping sorties. Stylishly handcrafted in genuine leather with a decorative red leather trim, this practical zip-around wallet features an RFID shield to help protect against personal data theft, multiple spaces and zippered pockets to store and organize money, cards, and other essentials, and a handy detachable leather wristlet for easy carrying and added safety.
Shop Now
Wheeled Laptop Business Case - Burgundy (5152)
Her career is taking her places… lots of places! She needs the right gear to help swiftly get from A to B, efficiently manage her effects, and look good doing it! This handsome business case features smooth-rolling in-line wheels for easy mobility, a padded computer compartment for 15-inch laptop with dedicated pockets for tablet, phone and cables, and comfortable faux-leather over-shoulder straps that make it possible to gracefully switch from rolling to carrying, without losing a beat.
Shop Now
Empire Collection 24" Expandable Spinner (16674)
When her travel plans take her a little further for a little longer, she needs a larger bag that suits her style. Ideal for short to medium-length trips, this 24-inch midsize upright provides both style and functionality, with a striking hot-pink design element that sets it apart, and a range of convenient features that help make packing and travelling smooth & easy.
Shop Now
Gifts Under $50
Being on a budget doesn't mean you have to compromise on the quality of your gift-giving. These specially-selected SWISSGEAR products check all the right boxes with affordable, premium quality from a brand that always makes a good impression. Family members, friends and colleagues will love these practical, stylish and durable gifts… thinking you surely spent much more than you did!
Stocking Stuffers
In the spirit of its premium-quality adventure-inspired travel gear, SWISSGEAR makes a variety of gift-ready fashion accessories that fit very comfortably inside any Christmas stocking. With versatile designs that look just as good with a formal suit-&-tie, as with a laid-back jeans-&-sport-jacket, these stunning SWISSGEAR accessories make great gifts for virtually anyone. This festive season, those on your list will love what their stocking has in store!
Wander-Lush Traveller
Whether they're travelling home for the Holidays, taking a last-minute 'vacay' to get away from it all, or just going for a quick country getaway, your wanderlust friends are always ready for their next adventure. Give them gear designed to keep up with their active lifestyle and busy travel schedule. For those who love to travel, the gift of premium-quality travel gear is truly a joy to receive.
GLOBAL TRAVELLER
Travelling as a family during the holidays can be so much fun, but it also comes with its share of challenges. SWISSGEAR makes durable, practical, stylish gear you can rely on to help make family travel smooth and well-organized. These specially-selected ultra-durable and ultra-lightweight luggage sets and roomy backpacks make packing for the whole family easy and efficient, and travelling together, smooth and effortless.
Getaway Weekend Backpack – Heather Grey (22308)
Expertly-crafted with intelligently designed compartments for all your devices and key essentials, the sophisticated Getaway weekend backpack is a great add-on to your family luggage set that instantly elevates your travel and sets you apart.
Shop Now
17" Computer/Tablet Backpack – Grey (9855)
Stylishly designed with an array of tech-ready features, this reliable, lightweight backpack fits perfectly with your active lifestyle, whether you're running errands, commuting to work, or catching a flight to Acapulco with the family. It comes with smart amenities like a padded computer pouch for tablet and 17-inch laptop, and a built-in organizer with dedicated phone pocket and RFID protection screen.
Shop Now