Backpacks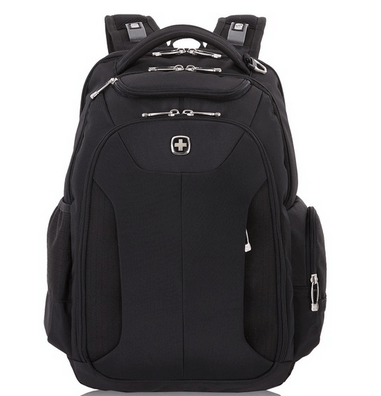 Backpacks
SWISSGEAR is the worlds most renowned manufacture of highly professional and life style driven backpacks. SWISSGEAR is built on trust, quality, and innovation and therefore consumers have come to rely on for providing well made backpacks. All styles and designs come from the heart of our design team and as a result we are able to actually get the very latest in lifestyle and fashionable designs all walks of life can come to enjoy. So whether you're planning on going across town or around the globe, SWISSGEAR understand your needs and has you covered.
Backpack
SWISSGEAR also understand that personal tastes very greatly and that's why we carry a wide selection of styles of backpacks. From business backpacks, messenger bags, laptop backpacks and many others, we offer many different functional pieces of luggage made for traveling and standing out in a crowd. Best of all most of our backpacks are TSA Friendly and that's a huge selling point anyone that has ever experienced the pains of traveling airports all over the United States and abroad. Our laptop backpacks are perfect for TSA check-ins as you only have to open the backpack up and never worry about having to take your laptop, tablet, and many other high value items. As a result, you'll avoid the anxiety of trying to get right at check-in and the risk of damaging, losing, or having your stuff stolen.
Backpacks For Sale
Now is the time to shop! Get your SWISSGEAR backpack with us and know that you have the very best in style, design, and protection. Our TSA backpacks are scansmart and if you do traveling you'll love how easy it will be to get through any security scan and checkpoints. Best of all most of our backpacks are versatile and you can do more than just stow away typical items. Some of our backpacks you can store sneakers, hide your iPhone and run your wire through our audio ports, store and keep cold drinks and much more.
Buy Backpacks
Another great reason to go with a SWISSGEAR backpack and buy our backpacks is that you can slide your backpack over many of our luggage items and that's great because you can get through the airport using leverage and avoid having to constantly put your backpack down among other things. In the end, the best part of traveling really is the experience that you have and trust us getting through the air port with a breeze is going to make your trip better. Explore our backpacks and buy today, we have many sale items and great best sellers that are very affordable.
Buy Backpack
Wherever your journey takes you Swissgear backpacks are always ready when you are!

Laptop Compartment
Integrated compartment to securely store your laptop

Air Flow Back System
Multi-panel airflow design for comfortable back support

Comfort Fit Back
Specially placed padded back panels for ultimate comfort

Compression Straps
Adjust backpack volume and tighten load for superior carrying comfort

Shoulder Strap System
Padded, ergonomically contoured straps with breathable fabric

Padded Tablet Pocket
Integrated tablet pocket for safe and convenient storage

Audio Interface
Media player pockets and built-in headphone cord port

Water Bottle Pocket
Side pockets for the easy carrying of water bottles